In life, there comes a time when we need to either accept and embrace our talents as they were given to us, or deny our true callings and assert that which is unnatural to us, but somehow makes us look so much more 'with it'.
This is the promise advertising makes. Despite our natural leanings toward the unnatural, advertising asserts that a product, for better or worse, will elevate us to the status we desire. Simply by brushing with "Brand X" toothpaste and eating the "Happy Farmer" brand niblets, combined with the silky smooth feeling of "Oh Joy!" lotion, we will be more attractive, more honest, more successful, and ever so much more magnanimous. All this, of course, if you listened to your mother, your priest and Oprah, is supposed to emanate from within.
I say screw that.

I have these sunglasses, you see, and they were a gift. I admit that while I liked their shape initially, I also was daunted and afraid to wear them because they were pink. Granted, you don't know me, but what you might have picked up by now is that I'm a midwestern transplant living in New York City, working in a creative field, which - according to several zoning ordinances and a Congressional Mandate dictate that I have to wear black, always for everything. Even though they say brown is the new black, I'm not biting, because I remember when red was the new black, navy was the new black, gray was the new black and black was once again the new black.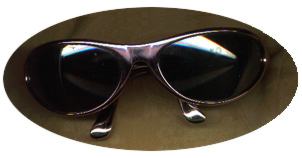 The giver was one of those people who asks if you're using your gift, regularly. I can't really lie, so, although I put them on and left the scene of the giving, I had them off within an hour. Two weeks later...
"Leslie, you wearing your sunglasses?".
"It hasn't been that sunny, um...", I paused and hoped it'd go away.

Then I felt bad. They were good sunglasses, I mean high quality Arnettes, made for sports I may never have the courage to try (snow boarding), with amazingly clear lenses. They have excellent peripheral vision and feel very secure on your head, not that unpleasant battle to keep them from slipping down your nose like my oh-so-five-minutes-ago Ray Ban-like regular sunglasses. So, I decided to wear them, since truthfully, my only issue was with the color.
I got hooked, fast. I could see anything, and it didn't give me that weird peripheral vision loss where you roll your eyes to the side only to see your sunglasses frame. They weren't too dark in moderate sun or too weak in bright sun, clearly the creators did their homework. As Goldilocks said - they were just right. And they did a great job of pushing my locks out of my eyes when I had to go indoors.
Which brings me to the confession part - the pink has really grown on me. I haven't had pink sunglasses since I was three. It's a light chrome pink, and it does go really well with black. I never have any trouble finding them, that's for sure. They do go with my skin, and their pinkness has been a conversation starter. Now, although they come in black, silver and other colors too, I don't think I'd want any other color but pink. They make me feel less Frankfurt School, more clown college. I think I like it.
So, yeah, Rob, I'm wearing my sunglasses, I'm wearing them everywhere, all the time. I'm wearing them right now. I love my Arnettes. Seems like you knew exactly what i needed, even though I didn't.
As it turns out, I'm a pink sunglasses person, after all. Anybody got anything to say about it? I didn't think so, and if you make fun of me, I'll know you're just jealous.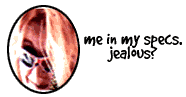 .


in the junk drawer:
October 1997
September 1997
August 1997
July 1997
June 1997
May 1997
April 1997
March 1997
February 1997