Up On the Q Tip
I like to use products I think people haven't caught on to. I like the feeling of being one of the first to know something or being able to be the kind of consumer that can make the distinction between the best and the most expensive. It's why I use really expensive lotion, but when I feel compelled to tighten up the pores I just sponge on Phillips Milk of Magnesia (it must be unflavored, in case you're going to try it at home) and leave it on for 15 minutes. I don't claim to be right, I just know what works for me. Okay, I do claim to be right when I suggest it to other people, but I do it more for the feeling of having some sort of power in information.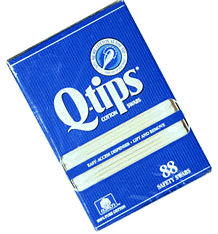 So, today, I celebrate what is likely one of the most popular products in American bathroom culture. The simple Q-Tip. I'm going to personalize it as much as I can by saying that my personal preference is for the wood sticks, not the white paper, likely for aesthetic reasons, although I have somehow convinced myself that it is due to the wood being stronger.

Against all doctor's recommendations and folksy sayings like "never put anything in your ear smaller than your elbow, I do clean my ears with them. But I also use them for other, less hygienic needs.
I clean anything that has a small little opening with them, from between the keys on my keyboard to between the slats of the heat ducts with them (Heloise like tip - if you have bigger slats, wrap a diaper around a butter knife, then it goes really fast) to the contacts in tape players, to printer heads. I use Q-Tips to move pastels around on paper and to get a nice fuzzy look when trying to soften oils on canvas. Q-Tips have been used as cat toys at my house, and I'll spare you the details of how cute the older cat looks with a puff of white sanitized cotton sticking out either side of her mouth when she gets a fresh one. On the downside though, every time I move my refrigerator, there are over a hundred of the little buggers dingy from abandonment just lying there.
In a pinch I'll put makeup on with them, or apply bleach to the grout of tiles when I don't want to splash it everywhere and just want to address that little spot near the top that gets yucky faster than everything else. They're great for cleaning up nail polish mistakes without wrecking your whole hand and I have even used them to light those candles in tall glasses when the wax gets too low and I can't stick my hand in far enough. Just stick the tip in any kind of alcohol, and you have yourself a mini torch for your small scale fire needs.
No, I haven't lit a bunch of them and used them as luau torches for Barbie. I'm whimsical, but I have limits.

So, here's a big toast to the Q-Tip. No other brand will do, Q-Tip by Chesebrough-Ponds still have the most cotton at the end and are the only brand I've ever seen with my coveted wooden sticks. Although I have no idea why the wood sticks haven't yet been phased out, I'm damn glad, since it's equal parts perceived strength and the fact that I just like the way the white cotton looks with the blond wood that make me love them so much. Like the box says, they're ideal for a multitude of uses.


back to the junk drawer