I Love Stufffed Things!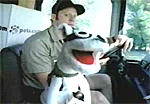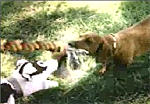 It's been a long time since I have felt this kind of unequivocal love for a series of commercials. These very well may be my favorite TV ads ever, in the sense that I can watch them over and over again and never feel bored, or not giggle all the way through. The perfect commercial may have been made for (of all things) a dog food selling web site.
Pets.com has two spots out that fashion their appeal from multi-leveled humor much in the way old Bugs Bunny Cartoons did. Brilliantly written and dare I say - acted - by a sock puppet, the multivalent script works on several levels. It's a cute puppet, the voiceovers are enthusiastic and silly without a hint of nastiness. For the cynical, ad weary viewers, the little touches are what make it. The sock puppet's complete awareness that he's not a real dog. The hand knocks on the door, rapping his head (with a watch for a collar) into the door. For example: our sense of familiarity with things anthropomorphic sends our brains an ouch signal since we're thinking of it as a living breathing head, not a hand in a sock.
The watch as collar, the arm in the shots, the unbridled enthusiasm when encouraging the dachshund playing tug of war with the Saint Bernard "Don't give up! Don't give up!" appeals to the classic sensibility of rooting for the little guy. He sings in the car (like we do) unashamed, and the driver looks at him like he's crazy, which doesn't inspire self-consciousness. He's on a mission, overseeing deliveries, (purely in an advisory role.)
I could analyze the humor point for point and then explain why the feel good message renews my faith in the power of advertising, but the best way to experience these commericals is first hand. If you're on a mediocre connection, you'll have to trust me when I say the downloads are entirely worth it.
Crazy Dog Park Deliveries
click to view movies
Seriously, watch them, see what I'm talking about here. (As an aside this is exactly what I'm talking about. I actually like these so much I almost invited you all over to watch them on my VCR to make sure I could see you enjoying them as much as I do. How often does that happen? I'm not even invoking the simulacra card about a simulated dog as a spokespuppet thing for a simulated shopping experience in a virtual world and how clever that is. I just want to hear him say "try to get the burger" a few more times.)
The best thing about the ads is this: I can like these without apology, at no one's expense, and enjoy it on a pure level. They do not create a sense of failure or inadequacy that only the advertised product could fill, but rather compel me to purchase to be part of something that makes me so happy. I just want to enjoy pets.com as much as the sock puppet and the pets who get their stuff at pets.com do. Hilarious and self-effacing, these spots - as the ending line of "Crazy Dog Park" says, is my kind of party.
what, if any, commercials make you feel happy?

in the junk drawer: