<!-This is a section break for text->

Just the Beginning
Sex sells, which is certainly not news to anyone, but there has been one category that sex just hasn't been able to insinuate itself successfully into: home hardware. Save the saucy Snap On Tools girls, geared more at grease monkeys than weekend fixer uppers, sex just isn't something that the retiling the backsplash weekend project set is ready to embrace as a marketing tool.
In recent ads, Wal-Mart has worked to establish the real people, real shoppers persona to make it seem more personal less chain-like, with limited success. The employees are painted as merely friendly and willing, but they fall short -- reinforcing many negative stereotypes associated with the store.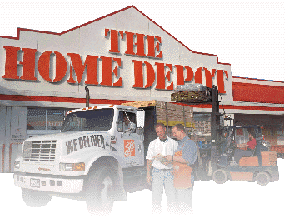 In the same vein, Home Depot has taken a smart profile, doing case studies, either of shoppers, or staff members, profiling their experience in specific areas. From the resort employee who reduced his annual shopping spree from four days to one to the man who's tried all the riding mowers on his own lawn, the air of credibility, including the crucial inclusion of names, product shots and storytelling hits the mark with amazing precision.
The employees are plausible, whether actual employees or actors, they have regional accents (vaguely Midwestern, or southern) and the dialogues less addresses the ubiquitousness of Home Depot's largesse, the theme of previous campaigns, but the thoroughness of each department. The vast nature of the stores is conveyed wordlessly through wide shots at various intervals in the 30 second spots.
I want those helpful ladies to help me select the right paint for my home, I want to take the free woodshop classes (only offered to children) I want in. Home Depot, without saying so, asserts itself as a community I want to be part of. Without expressly selling personalization, they have positioned themselves in a way thatindicatess that every customer is not only valuable, but interesting. The employees depicted are dripping with smart next door neighbor charm, and imply awealthh of knowledge in their department.
It's a shopping fantasy, but the most infectious part of the spots is the employees enthusiasm, at the end of every 30 second spot I find myself yelling "Go get the car we've gotta go to Home Depot!" before it sinks in that not only do I not have a car, but that I also live alone in apartment that the lawprohibitss me from modifying in a substantial way.
After a really atrocious five years of advertising attempting to out clever andamusee the viewer, I like this grass roots return to addressing specific issues affecting consumers without instilling real or imagined fears attached to shopping. We are not lured into a false sense of security, but rather promised service, competence and selection, actual criterion buying choices are made on (after ofcoursee the almighty brand recognition). Whether or not Home Depot delivers its promise to actual shoppers, this image building series is right on target.

in the junk drawer: