Danny Digital

I can tell you one thing straight: I am not someone with a whole lot of free time to kick it digital with y'all, know what I'm saying? As anyone in the upstate NY tri-county area can tell you, I juggle many versatilious roles: Actor/Performer, world-class playboy, and locally reknowned gentleman of leisure. These don't leave a lot of time for yahooing and the such, you know. But it seems like Sweet Dan (aka The Mechanicville Muffin Man aka The Stunt Driver aka Yehuda Schmoile) has a new bag to add to his list of civic macking duties: Global Ambassador of Cyber-Activities for eBay.com.
It's true. After my recent command performance as Esteban in the touring production of "La Décision X", a business associate presented me with the opportunity to bring y'all a chance of a lifetime. That's right -- eBay (with the cooperation of Smug and Sweet-D Enterprises, Unlimited ) has decided to take its much-coveted Coolest Shopping Site of the Year award and make it available to you, the undeserving masses! And let me pull your coats to how this can be done...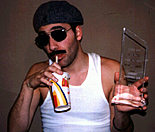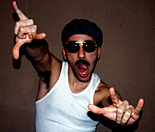 eBay has taken a strictly business approach to their, uh, business. They said to themselves, "hey, man. How can we make crazy stacks with nothing to sell, not even a washcloth or pack of orange Certs or something? Cause if we could figure that out, it would be like giving the whole world the finger, right?" Then - TA-BLAM! - they did figure it out: build an auction space, right? Let other people sell their washcloths and their socks and their nasty-ass Furbys and we can just chill and go public and maybe defend some fraud suits and drink Singapore Slings all day or something. And that's just what they did.
Well, after making all that green it's time to give something back to the people, right? Let all y'all get some of that sweetness trickling down from Sugar Daddy eBay. And Sweet Dan is here to hook you up properly. For a limited time you can bid on Ebay's site to take home their Cool Site of the Year award, and make it your own. The proceeds will go to some skinny orphans or dogs with funguses or something like that. The proceeds will definitely not go to the Miss Brittany Spivey No Good Georgia Stunt Chinchilla Coat Fund, no matter what that broke-down woman says. Straight?
Anyway, it's a one-week window of opportunity and all, and to make this sweet deal an official Sweet Dan Deal, here's what we can do for y'all. If you win the auction, our crack team of master engravulators will hand-engrave your name -- or anyone's name -- over eBay's name on the award! How nice is that? (see our artists' dramatic recreation below to see how it's done!) Now you can have the award in your crib and ladies can come over -- and nice ladies, too, like the kinds in pin-up magazines or the cover of LOOK magazine and such -- and whisper things in your ear like, "oh, damn, Elmont! I didn't know you won Coolest Shopping Site of the Year. That's so damn sexy, baby." etc., etc. etc. You will be the Cyber Mack-o-Tron 2074. Guaranteed.
There it is. From Smug, Sweet Dan and eBay -- the Cool Site of the Year Sweet Dan Celebrity Auction. 1 Week only. A chance to buy some of that American Dream. Tell your breadwinning friends about it. Tell your momma about it. Tell your baby's father about it. I don't care. I'm an equal-opportunist, know what I'm sayin?
peace.
Sweet Dan
Here's what really happened ...


back to the junk drawer