Backslash Dot Com?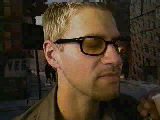 I could, for a moment, forget that this rap star who provides the vocal tracks is the same guy who does the "Mickey D's" ads - that it not only sounds exactly like the McDonald's ad with only slightly different words, and looks a lot like it that I keep thinking, when I hear it that I'm hearing an ad for Hamburgers and not some weird gen-x image driven car, but that would just give me so much more to be annoyed by.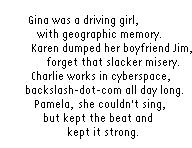 Let's take the four of these fine humans on, bearing in mind that like the Spice girls, these "characters" were selected to appeal to separate demographics, thereby saving Mazda money since they only have to make one version of the ad. We'll also take a look at their spice girl counterparts. Fortunately Ginger left the band, because the car doesn't look that roomy, even on TV.
Gina, who actually owns the car :(Posh Spice)
Gina has a geographic memory - which I assume means she doesn't get lost, or innately remembers how to get anywhere she's been which is a good thing since as she drives across our television screens - she spends the whole time looking in the mirror checking her lipstick. I hope to never run into Gina, literally on the road. Luckily our quartet seems to live in a vaguely alternate reality where building parts make good enhancement for coffee, since part of a building falls off and into the mug of...
Charlie: (Baby Spice)
He works in cyberspace. In cyberspace, which I guess saves his employer the expense of having to put him up in a cubicle. What he does there remains a mystery to me because he apparently does something that involves him "backslash dot com"-ing all day long. Since I work on the internet, I know that backslashes have nothing to do with anything in my dot reality, so my only guess is that he's some sort of internet construction worker, who runs around in the ether righting the direction of misplaced slashes. Kind of like the guy who sets pylons up on construction sites. You tell me. If he was focused grouped to reflect the "typical" web jockey, well, let's just say they asked the wrong people. Although I think they got the forehead thing right.
Karen: (Scary Spice)
...dumped her boyfriend Jim. "Forget that slacker misery". Please - the only way this would make me happy is if the copywriter was really named Karen and really inserted this line as part of some elaborate media driven revenge. However, likely the "forget that slacker misery" is an appeal to the Gen-X "new optimism" or show us that Karen is the take no guff kinda lady we'd all like to be. Sorry Karen, that slacker misery is an integral part of my day!
Pamela: (Sporty Spice)
Pamela, poor thing is responsible for keeping the beat, although she can't sing. See, this is triumph over your shortcomings. She can't sing, but gosh darn it, she's still a valuable member of the hipster community. Note also she is dressed in sporty clothes, making her the athletic one, the Sporty spice, if you will.
Mazda has a direct miss here, not quite as offensive as "punk rock, but a car" but not quite as appealing as Joe Isuzu. Automobile advertising has been my target repeatedly in this column because as a lifestyle product with a lot of money to leak into the market of advertising, it consistently seems to miss. I propose that there just be three car ads:
Your penis is huge in this car!
You will be the envy of all your friends in this car!
This car will never break down or need repairs!
That way I wouldn't have to keep pointing out that all car advertising is aimed at ridiculously insecure folks who know that any self esteem worth having comes around the corner in a 1970 hot pink Plymouth Fury. (That would be me.)

in the junk drawer: