Set Straight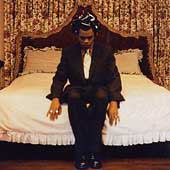 First of all I was wrong. Marc Anthony Thompson is indeed a separate human from Latin Singer Marc Anthony. Listening to the record, my ears were completely clouded by the Press Release I had, which turns out was a fake and an excellent practical joke played by a friend, another music writer who sucessfully duped me. So, there you go, that's how the fuckup came to be. And the lesson kids, is - don't read press releases. Just listen to records and talk about them.
So, if you want a take on Marc Anthony Thompson's "Chocolate Genius" record, I refer you to Ben Auburn of Plank who got it right the first time.
Thanks J.R. Sleep with the lights on.

Anyway, we apologize to Marc Anthony, the latin poster and Marc Anthony Thompson both who managed to put out a decent record.


in the junk drawer: