Camel Takes it's Lumps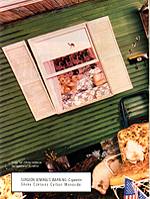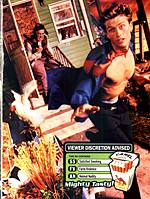 The Joe Camel spokesmodel is not news. A phallic faced cartoon character smoking was banned and a heavily branded icon was lost. "They're encouraging children to smoke" came the cries of the uneducated media consumers, when really the only thing encouraging anyone under 18 to smoke is the fact that it's a bad thing to do.
Without Joe, Camel was in the hot seat. How to make a comeback without looking like they sold out to the man? (Yes, I know they are the man, but appearance in the ad game is everything.) A full on embrace of their detractors.

There's nothing for children in the new Camel ads, to a hilarious excess. In the late 90s post ironic vein, they take their advertising to the ridiculous extreme, acknowledging their "how you like me now?" imagery for big kids with copy masked as a viewer warning." This ad contains: Satisfied Smoking, Farm Violence, Animal Nudity". A low rent Brad Pitt type (clearly over 18) is being chased from the house by a crotchety gun toting daddy while the daughter lays supine in the window, voluptuous and enjoying a post coital cigarette. It is here the double entendre of satisfaction is addressed, if sh'es "satisfied" in the way that would make a person want to smoke (both literally and metaphorically) she must be of age - or is she? The father seems awfully angry. Is this farmer's daughter underage? This brilliantly deceptive subtext is what makes it a standout.
I love this ad. The David La Chappelle-like photography surpasses the general stock image quality most cigarette ads are prone to, the white trash aesthetic is done with love and the scene is compelling and complex enough to hold your eyes for triple the view time of most ads.
The animals are not cute and furry, a couple flailing chickens and a hairy pig lack that cute as a button farmer in the dell look we're often treated to when someone brings in the beasts of burden to spice up a shot. You can't see it here, but the wallpaper inside the house is amazing, and the placement of the American flags is the best wink to consumers I've yet to see. It's Camel's way of saying "how you like me now?" I think of it as a subtle reminder of how much tax money cigarette sales add to the American economy.
So, a tip of the hat and a flick of my Bic to Camel for pulling the rabbit out of the hat with grace. You may not like smoking, or think that cigarette ads are the work of the devil, but you have to admit that this ad is the best comeback possible to the people who tried to take them down because Joe Camel had too many Barney like qualities.

in the junk drawer: