Steve Champeon is still waiting, patiently, for his FREE surge protector.

The Love Song of A Mail Order Shopper
OK, it's time to come clean. My secret obsession, hidden shamefully for so many years, may now be revealed to public scrutiny. I, like many a Macintosh owner, have long suffered from the Love that Dare Not Give Out Its Credit Card Information Over the Internet.
Yes, I'm talking about Jennifer, the brunette in the MacMall advertisements.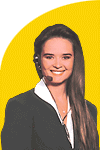 I've watched my love grow up on the back pages of MacWorld, MacUser, and even, for a short while, Computer Shopper. No fleeting, Shelleyesque romance, this -- no, rather, it has only deepened over the years, as my love grew from a demure, fledgling beauty into the sexual powerhouse that admonishes me (yes, me) to call my account representative for details on how I can save hundreds, even thousands on new Mac systems.
For desktop publishing or the home office, and now high-end audio/video production, available in pizza box or tower configurations, even clones. Well, clone. With a funky scalloped case. No matter. For I do not come to buy a Mac, but to praise my love.
I've watched with a critical eye, looking for clues that she knows of my existence, that she wants me to call. I am always satisfied. I know she is probably well provided for - how could she not be, having led so many a weary Mac Plus owner or frustrated Windows victim to the nirvana of a new multimedia PowerPC system? The thoughtful little things she does, like giving me a copy of Descent for PowerPC - knowing that one day, when I trade in my aging Centris 610, now frankensteined into a 650 case, I will be able to relieve my frustrations on the pixelated monsters I imagine haunt her dreams as well.
But what of the others? (and, oh, there are surely others!) The jealous agony of knowing that I cannot claim her as my own, that she lives far away from my humble home in North Carolina, surrounded by the cold and heartless thugs who no doubt hound her every waking moment, asking for her undivided and courteous attention as they place orders for software, hardware, and other accessories... Does she remember me?
I collapse, Werther-like, sobbing for her gentle heart.

Suddenly, I arise again, in righteous indignation for the tears she must have shed when those ... those *bastards* at her competitors' advertising agencies cast a ... a ... (sob!) a DOG in a campaign aimed straight at her innocence. I see that flea-ridden mutt sporting the telephone headset and I want to tear up the catalog!
Discounts for bulk purchases cannot possibly hope to heal the wound in my heart, the offense that strikes deep to the core of my being. I know that she must carry a torch for me, her white knight - I can see it whenever I see her smiling face, in the same jacket that first caught my eye over five years ago. Thanks for remaining constant, in this change-fueled world.
Jennifer, my love, I will call you tomorrow.
I need another Zip drive. This one is making a clicking sound.
Admiringly yours,
Customer number A092C4657.


back to the junk drawer