Smells Like Clean Spirits?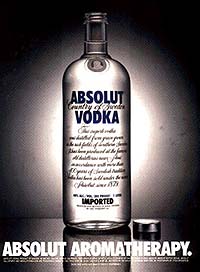 Absolut Aromatherapy?
Let me say that up until now I have gotten it. Absolut Vodka's long running campaign of bottle interpretations has been one of the most successful ad campaigns in the history of ad campaigns. I have seen the Absolut bottle interpreted as everything from a map of New York City to a martini glass to a painting by Warhol and back. I've seen the various flavors and line extensions intrepreted to convey the extra goodness they pack in. Each time, it's been clear to me exactly what the point was. That is, until now.
There are plenty of good things about Vodka. I know, I drank some as part of my "research" for writing this piece. A drop of vermouth and a lemon twist and you're a super-sophisticate, chatting up the honeys. Mix it with Crystal Lite and you have the perfect beverage for the days you feel fat but still want to get loaded. Or you can do what I do with my vodka most of the time. Keep it in the freezer for company.

Absolut has made it abundantly clear they have a sense of humor. Various artists interpretations, and the infamous Absolut Irony ad proved that. I'm now questioning my own sense of humor, becuase initially this ad just made me arch my eyebrows, and the longer it sat on my table and the longer I stared at it, the more it began to pick at me. Yes, the ad actually mocked me at one point, the details of which I will spare you.
Do a thousand different ads, and eventually one of them is going to go bust. One of them is going to be a dud. Ladies and gentlemen, I am proud to announce we have a loser. See, Aromatherapy is just not one of the things vodka is good for, or even funny to pretend it was for. Everyone knows the smell of alcohol is just that - a signifier that something has gone horribly wrong.
Oh sure I can hear you now saying "Leslie, you're a Puritain. that is funny!". And I know you're lying too. I have never heard anyone recount nostalgically the smell of booze, unless it was in reference to a rare scotch or vintage wine. The vodka smell is the lowest common denominator of alcohol smells, all it smells like is a drunk. Who has great memories they'd like to recreate and find comfort in by the smell of a drunk? I'm just curious.
All memories aside, truth is, I don't really care. All I know is that this ad reminded me of everything that was bad about drinking. Since I went to a Big 10 school, I did more than half of the alcohol abusing I was alotted for this lifetime in college and now that those meories are securely buried in the past, I've moved on to approximately three annual binges and the interspersing of regular life with the odd cocktail. (If Todd's behind the bar, odd is putting it mildly).

So, the only member of the target audience I can isolate here is the low rent alkie - buying Smirnoff and Popov by the half gallon and dreaming of a day they hit the instant lottery for fifty bucks and can pony up the cash for a bottle of the good stuff. Something that is less likely to rob you of your night vision and be slightly more gentle on the kidneys. If there's a joke there, if Absolut is making fun of themselves, it doesn't come through. Or if the joke is something I missed completely and you know what it is, please write and let me know. This ad is spooking me more than Freddy Krueger and Jason all rolled into one.


in the junk drawer:
October 1997
September 1997
August 1997
July 1997
June 1997
May 1997
April 1997
March 1997
February 1997
January 1997